A Great Day out at Amberley

What a terrific day out. I never imagined that it would be possible to hire several diesel locomotives for a day of sheer delight for just £30.00 and a steam loco for just £20.00 more AND be allowed to drive them at Amberley Museum in West Sussex. But that is what happened when members of the Surrey Group of the 7mm Narrow Gauge Association and friends met there last Sunday, 1st March 2015.
On a bright sunny morning we met at the loco sheds in the north end of the massive chalk pit of the museum for a briefing and safety instruction, then we were let loose to grab a loco and, under excellent instruction, drive it. As there was a vacancy for a friend to attend I arranged for Samuel, one of BRMRC's members to join us. He arrived mid morning to find me solving a 'shunting puzzle' by driving the Ransoms and Rapier 80/1937) 0-4-0NG Diesel. The puzzle was a challenge to arrange a train of 4 wagons in an order decided by the shuffling of a pack of cards. Using 2 sidings and a partner who acted as shunter (coupling/uncoupling and changing the points while observing the dreaded H&S regulations), the object of the exercise was to finish the challenge in the fewest moves. I was lucky to shuffle an easy operation which was completed in just a few 'moves'.

After a few drives on a Hudson Hunslet and an O&K 0-4-0 (RL1 type 4wDM w/n 4013) we had a few rides on the main line behind Peldon (John Fowler Resilient Class No. 21295/1936) and some freight wagons then queued up for an excellent spread of lunch. Offered main course of Chilli and Rice, Beef Casserole and a surprisingly good Fish stew, everyone enjoyed their fill. Free tea, coffee and a great selection of cakes kept us going all day.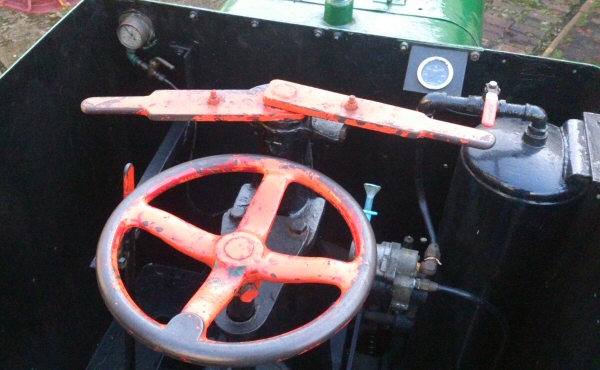 Hudson Hunslett Controls

Then back to the driving. We booked a slot for the 'shunting puzzle' later in the day. After driving Peldon around the main line for a while we had a ride behind the steam loco 'Peter' (Bagnall 2067), then back to the puzzle. Polar Bear (W G Bagnall, Stafford, 2-4-0T No 1781. Built 1905) was also in steam.

As we waited for the team ahead of us to complete their turn, one of the wagons de-railed on the 3-way point. The wagon was manhandled back onto the rails but the delay meant we were out of time and didn't get a chance to have our turn.
The weather had turned quite cold and evening was fast approaching. After a brief final meeting and prize giving at 'Brockham Station' where we discussed what Amberley railway project to spend the money raised on, we packed up and set off home just before the rain came. All in all it was a most enjoyable day and we can't wait for the next opportunity to do the same again.
Thoroughly recommended!

Our thanks to the Surrey Group of the 7mm NGA for the invite and especially to Alan Rogers for organizing it on behalf of the Surrey Group of the 7mm Narrow Gauge Association.
Douglas Meany, Southdowns Group, 7mm NGA.

This article can also be seen on the BRMRC website at http://brmrc.co.uk/