Allbroke Estate Railway
Part One. The Beginning.
For more years than I care to remember I have been promising myself a railway I could enjoy.
I bought my house with a great garden, two good empty sheds and no timber obstructions in the large open loft. Great, a choice of location, a clean canvas so to speak and no restrictions on size, scale, gauge, period, company, fuel, type etc. The possibilities were endless. So where to start? I was going to procrastinate about it but decided to put that off for a while.
After several years of 'thinking about it' I decided to start a small OO layout in the shed. It would be at about a metre off the floor. Would measure 12' x 5'6'' and would have a lifting flap at the doorway. It started as something quite simple but I found that if I included a few extra sidings here and there and an extended run with a multilevel figure of eight, and a branch line and a factory siding, and a bigger goods yard, station or two and a large MPD it would be much more interesting. So with a more complex plan I bought timber and two sheets of ply and set to work to build support frames and baseboards. I laid out the track plan and made sure it would all fit. With much of the track in place and tested I progressed quite well until I noticed that I was not enjoying having to crawl under the layout to get in or out of the shed. (The lifting flap had been abandoned when the new super plan was born). Onward !. The mainline and branch track was now in place and the wiring was progressing when I lost a loco under the high level tracks. Derailed!!. Tried again…..Derailed again. Another loco……derailed, at exactly the point where I couldn't gain access. I had a choice: dismantle the high level where the track was perfect to get to the lower section to repair the fault, or ignore it, lock the shed and keep well away from it.
After several months of not going to that part of the garden I ventured to open the shed door and was confronted by a mass of spider webs and dust and a layout with exactly the same problems. This was too much for me and I realized that my first layout should really be something more manageable and within my capability, so the whole layout was reluctantly dismantled. A rethink was essential.
Soon after this I joined the South Downs Group of the 7mm Association and Bognor Regis MRC. My interest was now in 0 Gauge but it was too expensive to start out from scratch so I took the better alternative and began learning all I could about 7mm narrow gauge and running trains on a track gauge of 16.5mm.
Last year I started building a circular micro-layout on an old piece of laminated MDF which in a previous life had been the end of a computer desk. It measured about 2'3" x 3'3" and was quite heavy. After fixing a 2 x 1 frame under it and extending it with a 3" wide strip of MDF at each end to accommodate a double track curved line, I laid the track for the Allbroke Estate Railway. It stopped at this stage for quite a while until at a 7mm group meeting a few months ago I found myself agreeing to the building of a small layout to display in a shop window to promote our forthcoming exhibition. Well that was it. I had actually committed myself to get on and progress the layout to a stage where people, the public, would be viewing it. And I had a limited time for it.
A picture showing the track plan and bare baseboard.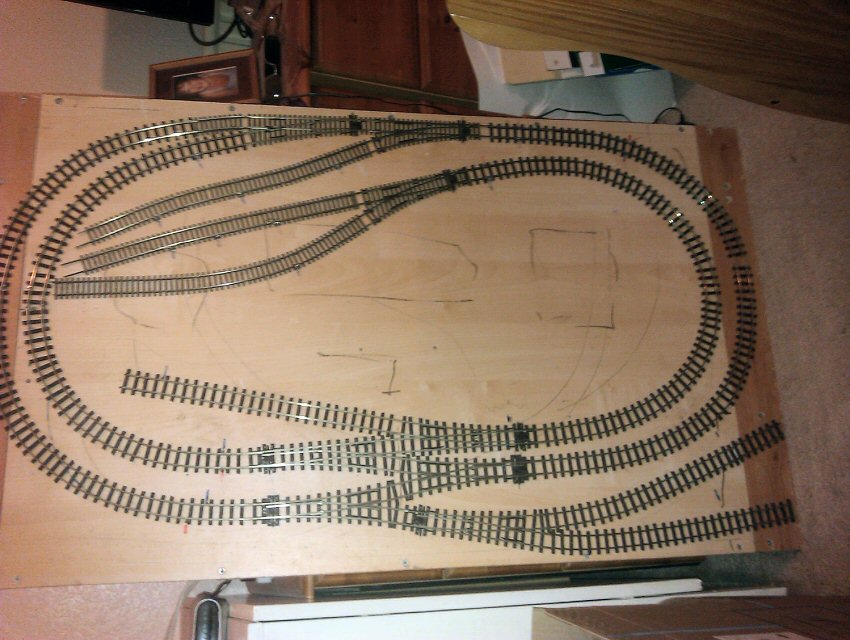 Well eventually it reached a stage where it was presentable. Not finished, lacking much detail, but getting there. It was displayed and the feedback was very encouraging with several customers entering the shop and asking about the price!
Soon will follow a brief account of how it reached this stage and developed further.
Allbroke ready for its static display.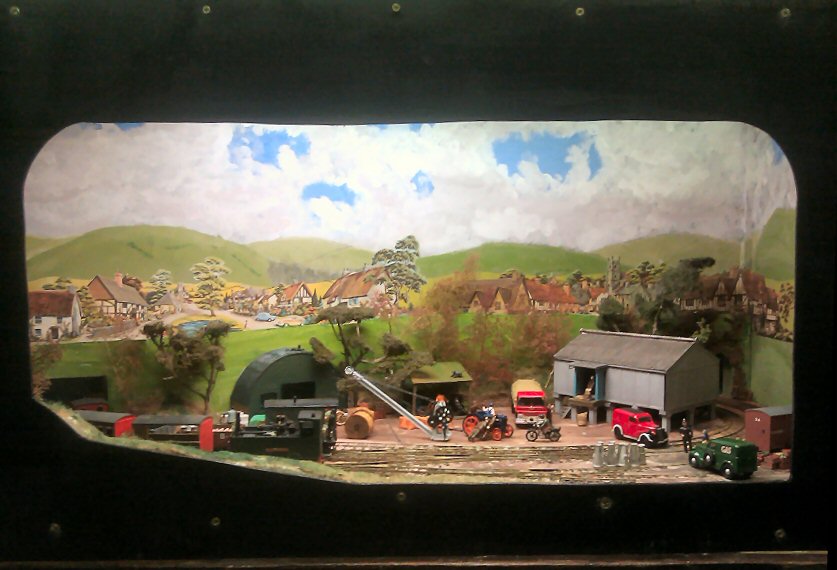 ---
Since writing this article, Doug has sent some pictures of one of the contributions Sam Luther has made. This is a Dick Kerr diesel locomotive for which Sam has made a control panel. Made from wooden stirrers and bits and pieces, it includes speedo, rev counter, fuel gauge etc., jobsheet and a can of Coke and is a testament to what junior modellers are capable of.

Sam proudly displaying his model.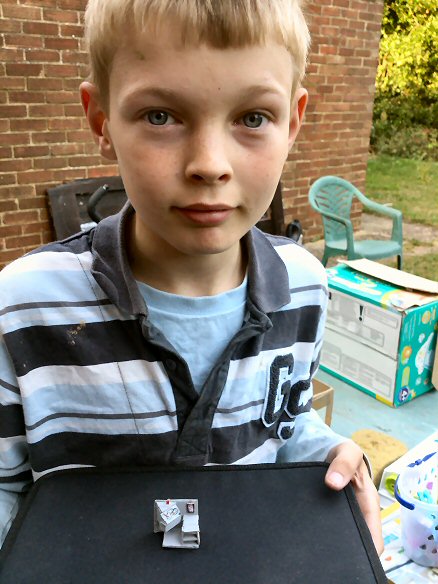 The locomotive with Sam's control panel ready for installation.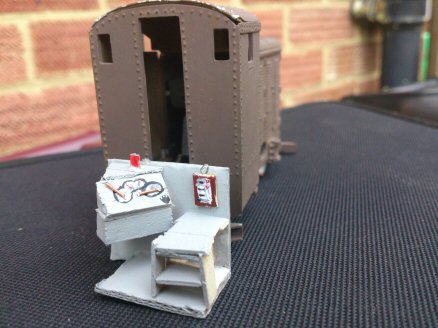 And the control panel in the loco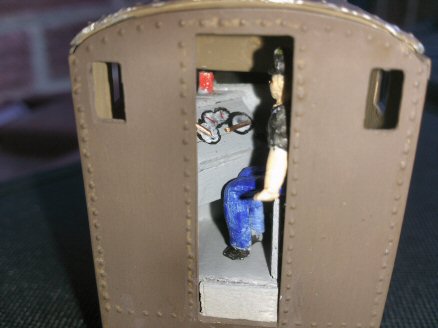 TO READ PART 2, PLEASE CLICK HERE
NOTE: This article can also be found at
http://brmrc.co.uk/allbroke_estate_railway.php