About Us

We are the South Downs Area Group of the 7mm Narrow Gauge Association. A small, select band, serving the southern parts of East and West Sussex and East Hampshire, who share an interest in modelling railways - mainly, but not exclusively, narrow gauge in or about 7mm to the foot scale.
Do you live in the South Downs "sausage"?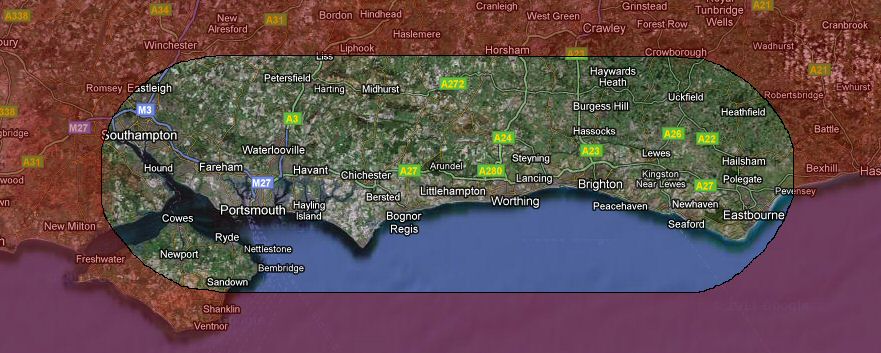 This map represents the approximate area we cover. Members from further afield are nevertheless welcome should they wish to join - or simply visit.
Thank you to everyone who came to our Open Day in Pagham on 21st June, 2014. We hope you enjoyed yourselves and are inspired to come and join us at our monthly meetings - or see us at exhibitions (see Diary).
We are a very informal group who meet roughly once a month at local members' houses - presently in Pagham, Eastergate, Emsworth or Worthing. We also arrange visits to various railway attractions or even short breaks as a group to visit those further afield - for example to the narrow gauge railways of Picardy in 2011. Not all of us even have layouts of our own. We would like to think that we cover a good range of modelling skills and some of our members have exhibited their layouts at various venues.
If you share any of our interests we would love to hear from you. Use the "Contact Us" link if you would like to join us at one of our meetings. Even if you are only staying in the area you will get a warm welcome - or better still, become a permanent member of our merry band. We are pleased to welcome anyone with an interest in narrow gauge modelling in, or about, 7mm to the foot scale.
We also run our own local annual and highly acclaimed exhibition 'SWING'. Follow the "Exhibition" menu item for what we have planned for our next exhibition and the "Past Exhibitions" menu above for more about our previous exhibitions.
If you are interested in the 7mm Narrow Gauge Association please follow the link under "About us" in the menu above.